The FINANCIAL — In 2021, Russia was the fifth largest partner for EU exports of goods (4.1% of extra-EU exports, equivalent to €89 billion) and the third-largest partner for EU imports of goods (7.5% of extra-EU imports, equivalent to €158 billion).
The COVID-19 crisis caused both exports and imports between the EU and Russia to fall in 2020, bringing the trade deficit close to €16 billion, the lowest trade deficit between 2011 and 2021 between the EU and Russia. In this decade, the EU's trade deficit with Russia has decreased from €89 billion in 2011 to €69 billion in 2021.
Both exports to and imports from Russia decreased between 2011 and 2021. EU exports to Russia were highest in 2012 (€118 billion) and lowest in 2016 (€69 billion). EU imports from Russia were highest in 2012 (€204 billion) and lowest in 2020 (€95 billion).

EU energy imports dropped 14.2 pp in 10 years
Looking at the breakdown by product, energy was the most imported product by the EU from Russia in 2021. Energy represented 62% of EU imports from Russia last year (equivalent to €99 billion), indicating a significant drop of 14.2 percentage points (pp), compared with 2011, when energy represented almost 77% of EU imports from Russia (€148 billion).
Between 2011 and 2021, EU energy imports from Russia were highest in 2012 (€157 billion) and lowest in 2020 (almost €60 billion).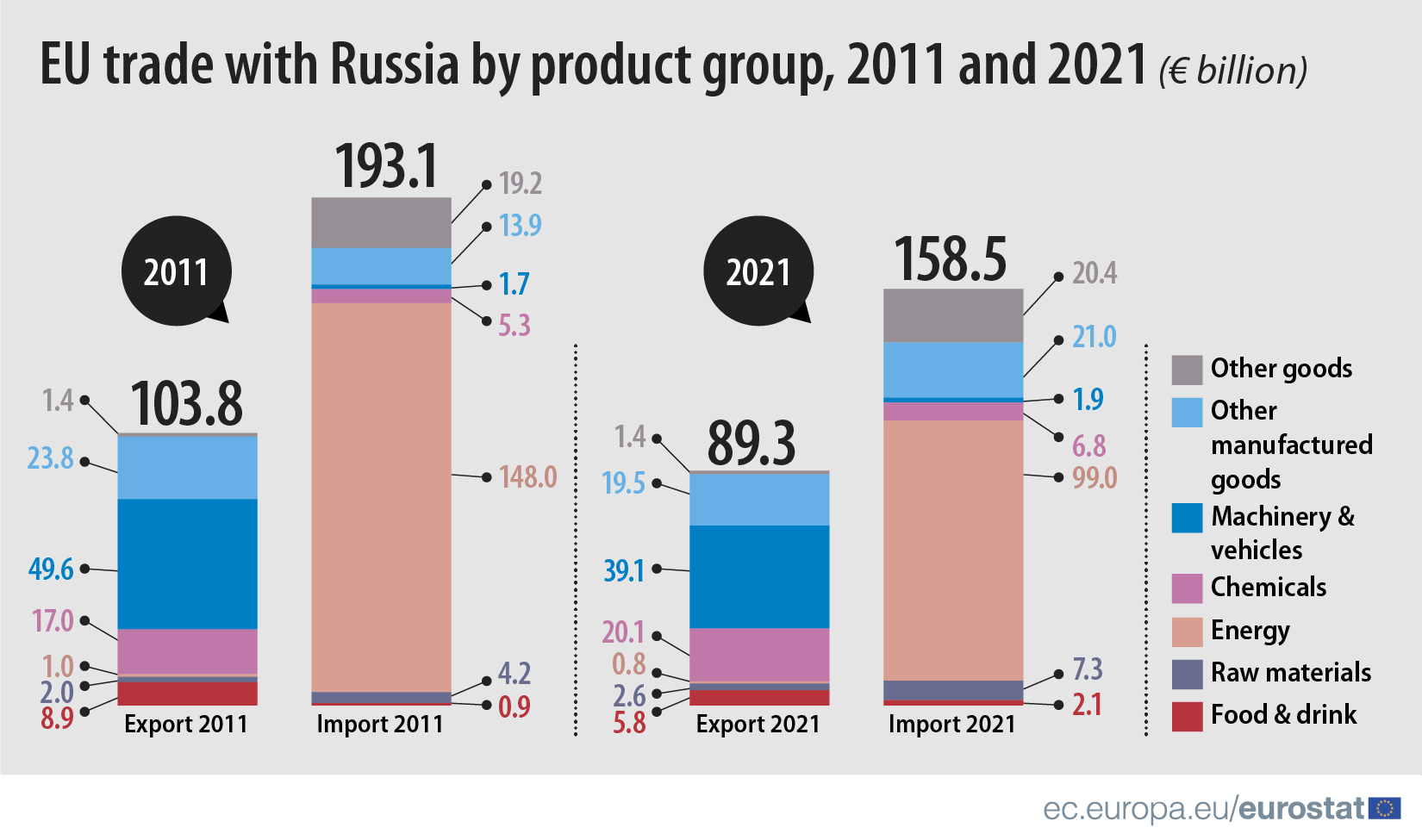 However, US Secretary of State Anthony Blinken is currently in Europe for talks with Western allies, and they are exploring the possibility of banning Russian oil imports.
Meanwhile in Washington DC, a bill proposing a ban on Russian oil imports is being discussed by US senators, and has support from both Republicans and Democrats
What sanctions have Western nations already imposed?
Western leaders have frozen the assets of Russia's central bank, limiting its ability to access $630bn (£470bn) of its dollar reserves.
The US, the EU and UK have also banned people and businesses from dealings with the Russian central bank, its finance ministry and its wealth fund.
Selected Russian banks will also be removed from the Swift messaging system, which enables the smooth transfer of money across borders. The ban will delay the payments Russia gets for exports of oil and gas.
Other sanctions by the UK include:
major Russian banks excluded from the UK financial system, stopping them from accessing sterling and clearing payments
all Russian banks will have their assets frozen
major Russian companies and the state will be stopped from raising finance or borrowing money on UK markets
a limit will be placed on deposits Russians can make at UK banks
The EU also said it would target 70% of the Russian banking market and key state-owned firms, including defence firms.
Western governments have imposed sanctions on some individuals, including a "hit list" of powerful, wealthy businessmen and women close to the Kremlin known as oligarchs.
Russian President Vladimir Putin and his Foreign Minister Sergei Lavrov have also been sanctioned. Their assets in the US, EU, UK and Canada will be frozen. The US has imposed a travel ban on both of them.
On Wednesday, the US targeted the assets of eight more oligarchs and officials, including business tycoon Alisher Usmanov.