The Georgian economy has demonstrated unexpectedly strong economic performance over the past two years. This contributed to the affirmation of the sovereign's BB ratings last month. Nevertheless, the rating outlook remains constrained by ongoing challenges relating to the geopolitical and institutional environment.
Following a severe 9.3% decline in GDP in 2020, the Georgian economy grew an exceptional 10.4% in 2021 and an estimated 10.2% last year. We see growth remaining strong at 6.8% and 6% this year and in 2024, before moderating to annual growth potential of around 5%.
The economy has been aided by recovery in private demand, tourism services and the trading sectors. This has more than offset adverse economic consequences of Russia's full-scale invasion of Ukraine – even accounting for the Georgian economy's tight linkages with Russia.
Remittances inflows have recorded annual rises of 155.6% – and 924.5% from Russia specifically – linked to inward migration reaching Georgia after escalation of regional conflict. Together with a recovery in tourism-services exports and inward foreign direct investment – especially to the services and infrastructure sectors – this has contributed to stronger current-account performance. The current-account deficit is shrinking to about 5% of GDP in 2023 despite rises in imports and significant lari appreciation.
Strong nominal growth has contributed to fiscal outperformance, declining debt
Sturdy domestic demand, coupled with rises in global energy and commodity prices in the early stages of last year, resulted in average headline inflation of 11.9% in 2022 alongside core inflation of 6.3%. As global inflation cools, we expect headline inflation in Georgia to moderate to 5.7% this year and 3.7% next year. Nevertheless, as inflation stays above the National Bank of Georgia's 3% objective, policy rates are seen being cut (only) gradually starting this year from 11% to 8.5% by year-end before 6.5% by end-2024.
Adverse effects of high inflation on output growth have been outweighed by the favourable short-run impetus of inflation for fiscal revenues: VAT, income and import tax revenues have performed well and helped trim the central-government deficit significantly to around 2.8% of GDP last year, shrinking more than 3pps from the year before and falling under a 3% fiscal-deficit ceiling one year ahead of government plans. We see this deficit further easing to 2.5% and 2.1% this year and next.
Strong nominal economic growth alongside the government's commitment to fiscal consolidation are expected to hold debt-to-GDP on a declining trajectory, reaching 34% by 2027 (Figure 1), which would represent a nearly one-half reduction from peak debt of 60% of GDP in 2020.
Figure 1. Debt-to-GDP, Georgia – baseline and stressed economic scenarios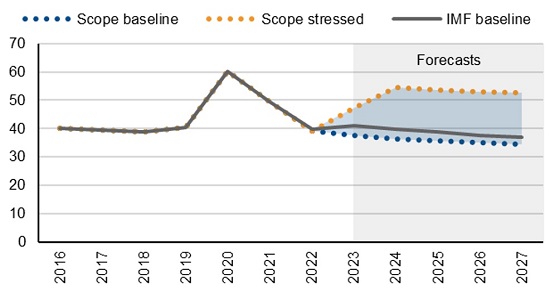 Source: IMF World Economic Outlook, Scope Ratings
The most geopolitically at-risk sovereign to Russian aggression (after Ukraine)
A resilient economy and improving fiscal prospects, alongside reforms addressing external vulnerabilities such as elevated loan and deposit dollarisation and the resilience of the banking system, are credit positive. Nevertheless, our ratings are at this stage constrained at present BB levels as a result of longer-run political and geopolitical risk.
After Ukraine (CC/Negative), Georgia is assumed as being our most geopolitically at-risk sovereign of our publicly-rated sovereign universe of 38 countries, having to navigate a brittle environment affecting eastern Europe after Russia's actions since 2022. This accounts for the present status of Georgia outside of the European Union and NATO, geographical proximity to Russia and latent tensions around the regions of South Ossetia and Abkhazia after the war against Russia in 2008.
The Georgian Dream government has trodden carefully as to not aggravate Russia, but strong public support for Ukraine, long-run EU and NATO accession aspirations and potential changes of future government policies around Russia may raise geopolitical risks over the medium term.
Domestic political risks represent another challenge for the outlook. Polarised politics between Georgian Dream and main opposition, the United National Movement, have led to refusals to join sanctions against Russia and further limit the prospects of advancing structural reforms. A push to designate a register of "agents of foreign influence" has seen international critique. Compared with an historical track record of EU-oriented reforms, Georgia has recently seen democratic backsliding as evidenced by the arrest and incarceration of former President Mikheil Saakashvili.
Even as Ukraine and Moldova were granted candidate status for EU accession in June last year, Georgia was granted a "European perspective" – e.g., candidacy upon meeting specified institutional and governance reforms.
Alessandra Poli, Associate Analyst, Sovereign Ratings contributed to drafting this commentary.
Access all Scope rating & research reports on ScopeOne, Scope's digital marketplace, which includes API solutions for Scope's credit rating feed, providing institutional clients access to Scope's growing number of corporate, bank, sovereign and public sector ratings.
By Dennis Shen, Director, Sovereign Ratings