Iran Press/ Iran News: Talking about the western smear campaign that accused Iran of selling drones and missiles to Russia to use in the war against Ukraine, Hossein Amir-Abdollahian said: "Selling missiles is completely untrue, but the drone is true. Months before the war started in Ukraine, we had sold few drones to Russia."
Iran is responsible for the murders of Ukrainians. Country that oppresses its own people is now giving ru-monsters weapons for mass murders in the heart of Europe. That is what unfinished business and concessions to totalitarianism mean. The case when sanctions are not enough…

— Михайло Подоляк (@Podolyak_M) October 17, 2022
According to Russian media Podolyak who is the Adviser to the Head of the Office of President of Ukraine Volodymyr Zelenskyy, suggested to destroy drone facilities in Iran.
Speaking to the media, the Minister of Foreign Affairs added: "We asked the Minister of Foreign Affairs of Ukraine to provide us with any evidence that Russia used Iranian drones in the war against Ukraine."
Reacting to US President Joe Biden's recent remarks regarding liberating Iran, Amir-Abdollahian said: "Mr. Biden received his answer in Dr. Raisi's remarks yesterday, and American officials immediately corrected him after his ill-considered remarks and announced that the US does not have such a position."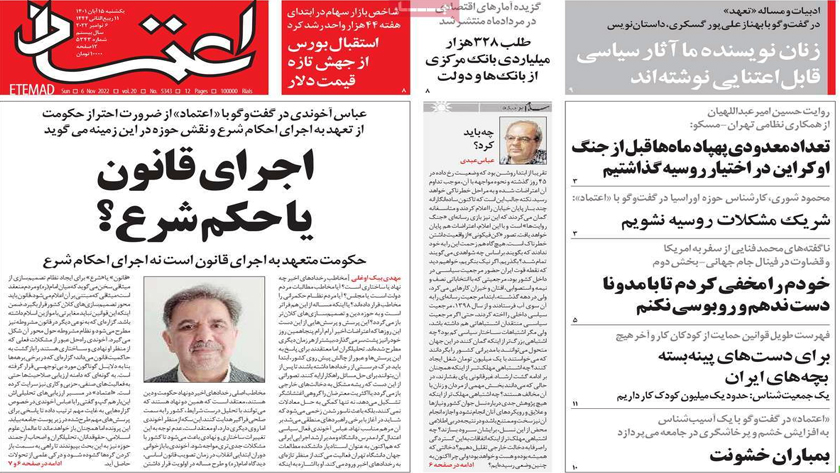 The foreign minister noted: "Of course, the Americans were always looking for regime change in Iran in the past decades. During the nuclear negotiations, we often told them that they have hidden goals."
He said about the Group of Friends in Defense of the Charter of the United Nations in Tehran: "The meeting will be held today in Tehran with the presence of 18 deputy foreign ministers of the member states. Its main purpose is to send a strong message to the international community against the unilateralism and unfair sanctions of some western activists."
The US said Wednesday that it has "abundant evidence" that Russia is using Iran-made military drones to attack Ukraine.
Iran is preparing to send approximately 1,000 additional weapons, including surface-to-surface short range ballistic missiles and more attack drones, to Russia to use in its war against Ukraine, officials from a western country that closely monitors Iran's weapons program told CNN.

The shipment is being closely monitored because it would be the first instance of Iran sending advanced precision guided missiles to Russia, which could give the Kremlin a substantial boost on the battlefield.

The last shipment of weapons from Iran to Russia included about 450 drones, officials said, which the Russians have already used to deadly effect in Ukraine. Ukrainian officials said last week that they have shot down more than 300 Iranian drones.
"The United States began warning in July that Iran was planning to transfer UAVs to Russia for use in Russia's brutal war against Ukraine, and we now have abundant evidence that these UAVs are being used to strike Ukrainian civilians and critical civilian infrastructure," State Department spokesman Ned Price said in a statement, referring to unmanned aerial vehicles.
"As Iran continues to lie and deny providing weapons to Russia for use in Ukraine, we are committed to working with allies and partners to prevent the transfer of dangerous weaponry to Russia," said Price.
He said the US will not hesitate to use sanctions and other appropriate tools against all those involved in these transfers.
"We will also continue to surge unprecedented security assistance to Ukraine, including air defense capabilities, so that Ukraine can defend itself from these weapons," he added.
Price also said the US joined the UK and France in raising the issue of Iran's transfer of drones to Russia at a meeting of the UN Security Council.
At a closed-door briefing, council members received expert briefings from the UN Secretariat on reports of the transfer of these dangerous weapons, he said.
"We expressed our grave concerns about Russia's acquisition of these UAVs from Iran in violation of UN Security Council Resolution 2231," he added.
Iran has rejected claims by the West that it is supplying domestically manufactured drones to Russia as Moscow has upped the ante in Ukraine with a series of kamikaze drone strikes on Ukrainian cities and critical infrastructure in recent weeks.
Multiple images posted on social media appear to show Iranian-made Shahed drones, which Russia refers to as Geran-2, in the skies above the capital Kyiv, as well as debris from the aircraft after they struck their targets.
On Monday, Ukrainian Foreign Minister Dmytro Kuleba submitted a proposal to President Volodymyr Zelenskyy to sever diplomatic relations with Iran due to its provision of drones to Russia.​​​​​​​