New polling from Ipsos, taken 4-8 November (before the announcement of a new deal with France on channel crossings), shows Labour are more trusted than the Conservatives on a range of border security issues, including whether they have right immigration policies (35% trust Labour vs. 20% the Conservatives), the right polices towards asylum seekers (36% vs. 21%), and on handling the issue of migrants crossing the English Channel (33% vs. 18%).
However, the majority trust neither of the main parties on these issues. Around seven in ten say they don't trust the Conservatives on each (70%, 68%, 73% respectively), while this figure is nearer half for Labour (52%, 50%, 53%).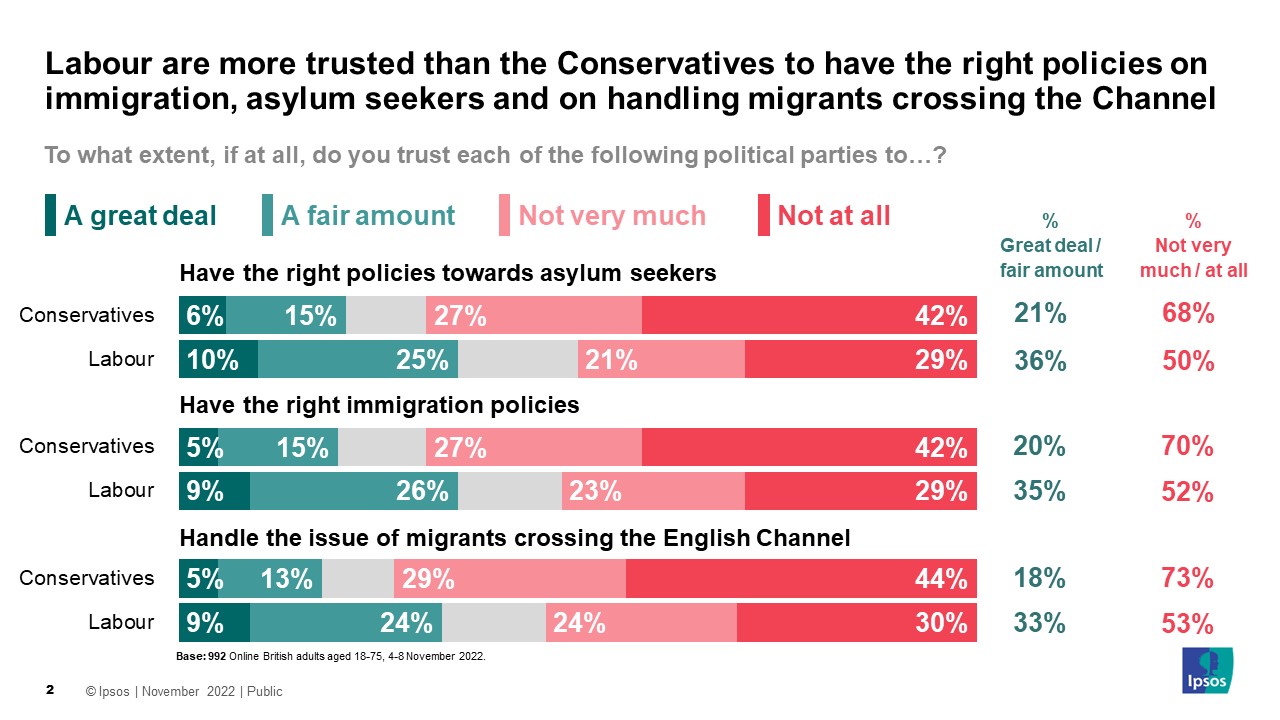 Even among their own 2019 voters, the majority don't trust the Conservatives to have the right immigration policies (59%), asylum policies (60%) or to handle the issue of migrants crossing the Channel (67%).  However, this group of Conservative voters from the last election trusts Labour even less on these issues.
Amid these scores, half (50%) say that Suella Braverman has been doing a bad job as Home Secretary, against just one in nine (11%) thinking she's done a good job. A large proportion are still undecided saying neither good nor bad (21%) or that they don't know (18). However, even 2019 Conservatives are more likely to think she has been performing badly than well (33% vs. 20% respectively).
How have the party leaders been performing?
Only 15% say that Rishi Sunak's government has been doing well at running the country, while slightly over two in five (43%) think it has done badly. This is an improvement on Liz Truss' government (6% well, 79% badly), but behind some of Boris Johnson's government scores earlier this year.  Three in ten (29%) are neutral so far about Sunak's government performance, while 12% don't know.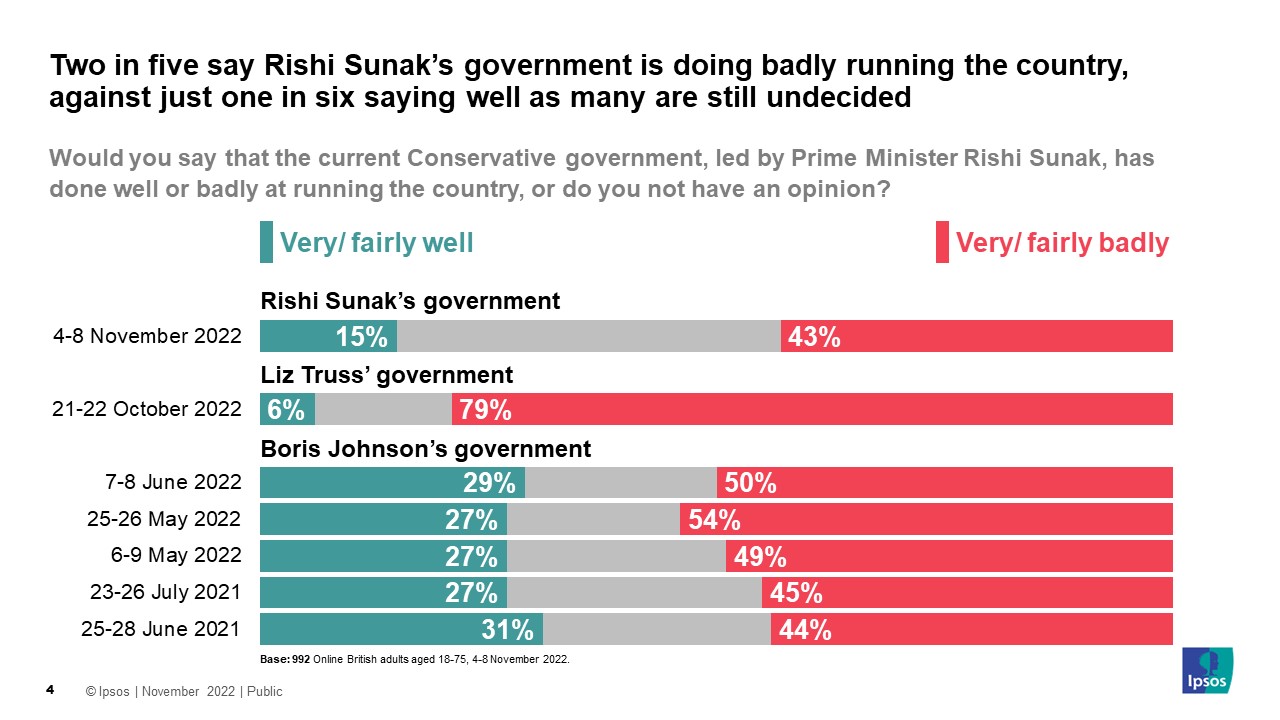 Rishi Sunak performs slightly better personally, with one in five (21%) saying he has been doing a good job as Prime Minister and three in ten (30%) a bad job, while a third (36%) are neutral and 13% don't know. Again, this is much better than Liz Truss' scores before she resigned (76% thought she did a bad job), but shows many are still to make their mind up about the new PM. The public are divided on whether Keir Starmer has been doing a good or bad job as Labour leader (32% vs. 28% respectively).
When put in a head-to-head against Mr Sunak the public are likewise split on who would make a better Prime Minister with 27% opting for Sunak (+2 since October, before he became Prime Minister) and 28% for Starmer (-6).
Commenting on the results, Gideon Skinner, Head of Political Research at Ipsos, UK, said:
Rishi Sunak has not experienced a very strong honeymoon since becoming Prime Minister, with many voters still to make up their minds about him – though his ratings do show a recovery from those experienced under Liz Truss. One issue that has been in the news in his first weeks is immigration and asylum, where Britons also express dissatisfaction with the performance of the Home Secretary, Suella Braverman. This continues the criticism on this issue that we saw under Boris Johnson and Priti Patel, even among the Conservatives' own voters, for whom this is of particular importance. They don't though show much sign of preferring Labour on immigration (even though Labour are ahead on this nationally, the public do not have a lot of confidence in either party), and instead the Conservatives will hope that the announcement of a new deal with France on channel crossings will start to address voters' scepticism, although fully regaining people's trust remains a big challenge.
Technical note
Ipsos interviewed a representative quota sample of 992 adults aged 18-75 in Great Britain. Interviews took place on the online Omnibus 4-8 November 2022. Data has been weighted to the known offline population proportions. All polls are subject to a wide range of potential sources of error.