But on Thursday, Russian Foreign Minister Sergei Lavrov looked me in the eye and told me things were not as they seemed.
"We didn't invade Ukraine," he claimed.
"We declared a special military operation because we had absolutely no other way of explaining to the West that dragging Ukraine into Nato was a criminal act."
Since Russia invaded Ukraine on 24 February, Mr Lavrov has given only a few interviews to Western media.
He repeated the official Kremlin line that there were Nazis in Ukraine. Russian officials often claim that their military is "de-Nazifying" the country. Mr Lavrov caused uproar recently when he tried to justify the Nazi slur regarding Ukraine's president, who is Jewish, by making the ridiculous claim that Adolf Hitler had "Jewish blood".
I quoted to him an official United Nations report about the Ukrainian village of Yahidne, in Chernihiv region, which states that "360 residents, including 74 children and five persons with disabilities, were forced by Russian armed forces to stay for 28 days in the basement of a school… There were no toilet facilities, water…10 older people died".
"Is that fighting Nazis?" I asked.
"It's a great pity," Mr Lavrov said, "but international diplomats, including the UN High Commissioner for Human Rights, the UN Secretary-General and other UN representatives, are being put under pressure by the West. And very often they're being used to amplify fake news spread by the West."
"Russia is not squeaky clean. Russia is what it is. And we are not ashamed of showing who we are."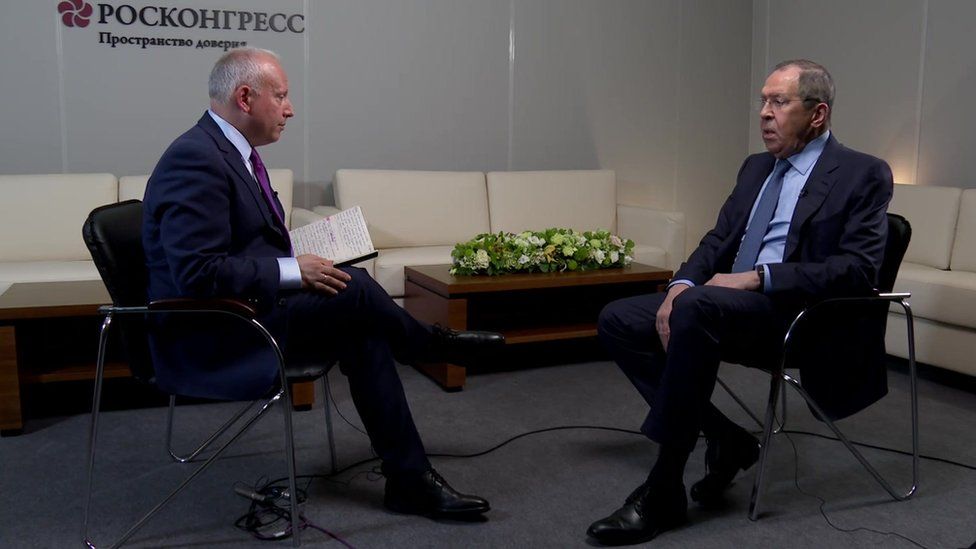 Mr Lavrov, 72, has represented Russia on the international stage for the past 18 years, but Western sanctions have now been imposed on both him and his daughter.
The US has accused him of pursuing a false narrative of Ukraine as the aggressor, and of direct responsibility for Russia's invasion as a member of its Security Council.
I then turned to Russian relations with the UK. It is on Russia's official list of unfriendly countries, and I suggested that to say relations were bad was an understatement.
"I don't think there's even room for manoeuvre any more," Mr Lavrov told me, "because both [Prime Minister Boris] Johnson and [Liz] Truss say openly that we should defeat Russia, we should force Russia to its knees. Go on, then, do it!"
When I asked Mr Lavrov how he viewed the UK now, he said it was "once again sacrificing the interests of its people for the sake of political ambitions".
I asked him about two British men recently sentenced to death by Russian separatists in occupied eastern Ukraine.
When I pointed out that in the eyes of the West, it was Russia that was responsible for their fate, he responded: "I am not interested in the eyes of the West at all. I am only interested in international law. According to international law, mercenaries are not recognised as combatants."
I replied that the men had served in the Ukrainian armed forces and were not mercenaries, and Mr Lavrov said that should be decided by a court.
He then accused the BBC of not uncovering the truth of what had been happening to civilians in separatist-held areas of eastern Ukraine, "when civilians were being bombed by Kyiv's troops for eight years".
I stressed that over the course of six years, the BBC had many times contacted the leadership in the separatist-run areas asking for permission to go and see what was happening. We were refused entry every single time.
Russia has accused Ukraine of genocide. However, in 2021, eight civilians were killed in the rebel-held areas, according to self-proclaimed pro-Russian "officials", and seven the year before. While every death was a tragedy, I said, that did not constitute a genocide.
I suggested that if genocide really had taken place, then the Luhansk and Donetsk separatists would have been interested in us going there. Why were we not let in, I asked.
"I don't know," said Mr Lavrov.