RFERL — NATO had a "serious and direct exchange" with Russian officials on the Ukraine crisis and the alliance is ready to meet Kremlin envoys again to discuss European security, NATO chief Jens Stoltenberg said.
Speaking on January 12 after meeting in Brussels with a delegation from Russia as part of the NATO-Russia Council, Stoltenberg said the alliance would not agree to Moscow's demands for a new security architecture in Europe but wanted to continue diplomacy.
Russian President Vladimir Putin has issued a series of demands for security guarantees in Europe, including NATO not accepting new members like Ukraine and Georgia and limits on allied deployments in Eastern European NATO members.
Stoltenberg reiterated that Ukraine has a right to decide its future security arrangements and that Russia had no right to veto NATO admitting new members.
Stoltenberg said NATO voiced "serious concern" over Moscow's buildup of nearly 100,000 troops near Russia's border with Ukraine and in occupied Crimean Peninsula in what Western capitals fear could be a prelude to an invasion.
"There are significant differences between NATO allies and Russia on this issue," he told reporters after the four-hour meeting with Russian officials.
"Our differences will not be easy to bridge, but it is a positive sign that all NATO allies and Russia sat down around the same table and engaged on substantive topics."
Stoltenberg said the allies had agreed to hold a series of meetings with Moscow on a variety of strategic issues.
"Russia was not in a position to agree on that proposal. They didn't reject it either, but the Russian representatives made it clear that they needed some time to come back to NATO with an answer," he said.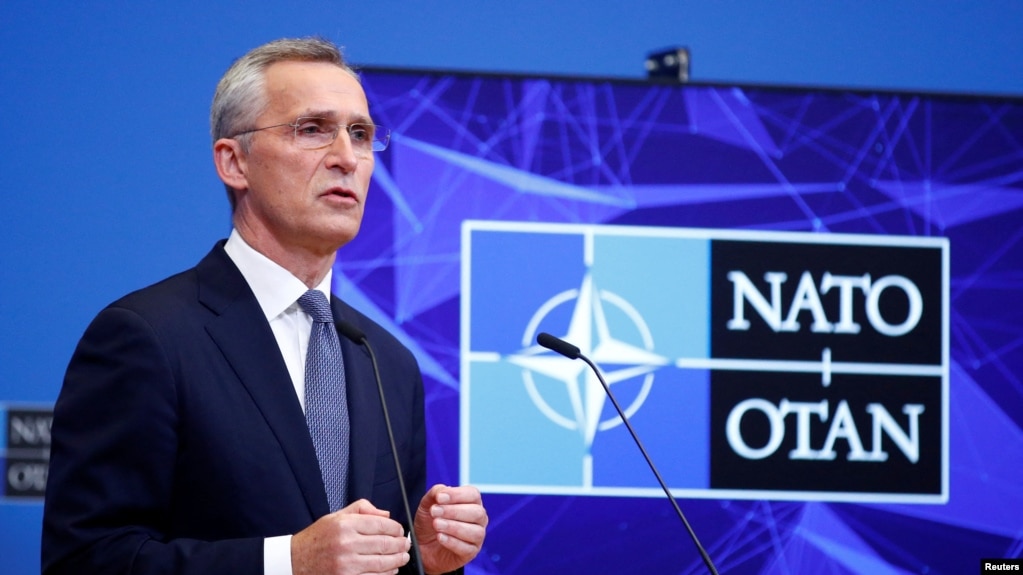 NATO Secretary General Stoltenberg talks to reporters in Brussels on January 12
Questions About Russia's Commitment To Diplomacy Persist After High-Stakes Talks With The U.S.
The Russian delegation was led by Deputy Foreign Minister Aleksandr Grushko and Deputy Defense Minister Aleksandr Fomin.
At a lengthy news conference after the meeting, Grushko said that that NATO's expansion poses a threat to Russia's security, but that Moscow was willing to talk about weapons deployment and verification measures.
"It's absolutely imperative to end the policy of open doors and offer Russia legally binding guarantees precluding further NATO's expansion eastward," Grushko said. "The freedom to choose ways of ensuring one's security mustn't be implemented in a way that infringes the legitimate security interests of others."
Kremlin spokesman Dmitry Peskov reiterated that Russia, while not issuing ultimatums, remains concerned about the Western alliance's possible enlargement.
"Of course, Russia is concerned over any NATO expansion. NATO is not an instrument of development, it is an instrument of confrontation," Peskov told journalists in Moscow.
The NATO-Russia Council meeting was the first under that framework in more than two years. It was the second round of high-stakes diplomacy this week following an initial meeting between senior U.S. and Russian officials in Geneva on January 10.
Deputy Secretary of State Wendy Sherman, the top American negotiator at the Geneva talks, also took part in the meeting in the Belgian capital.
She called on Russia to stay at the negotiating table to discuss Ukraine and other issues, including arms control.
"If Russia walks away… it will be quite apparent they were never serious about pursuing diplomacy and that is why collectively we are preparing for every eventuality," Sherman told reporters in Brussels.
U.S. Says NATO Allies 'United' Ahead Of Talks With Russia
"The heavy pace of bilateral and multilateral engagements this week demonstrates that the United States and our allies and partners are not dragging our feet. It is Russia that has to make a stark choice: de-escalation and diplomacy or confrontation and consequences," she said.
The NATO-Russia Council was set up two decades ago, but full meetings were suspended after Russia annexed Ukraine's Crimean Peninsula in 2014. The council has met only sporadically since, the last time in July 2019.
Western officials and analysts say Russia's buildup is an attempt to pressure the United States and European allies to make concessions.
With reporting by AFP, Reuters, and dpa
RFE/RL journalists report the news in 27 languages in 23 countries where a free press is banned by the government or not fully established.